The Mobile App That Pays
Artists, Producers and Influencers
The Only UNIQUE Beat Market That Pays YOU up to 13 Ways.
Visit the Google Play or Apple Store
to Download Our Mobile App Today!
Download the Mobile App Today!
June 2023 marks the launch for our mobile app. The main features you love about our web platform are now tranfering to our mobile app. You will be able to track your streams and monitor your earnings a lot easier. We will also give you the invite tools you need to grow your customer list and build your monthly residual and passive income. Visit your app store now and download the BuyBeats mobile app today!
The Fastest Growing Music Production Community That Helps
Artists and Producers Build Residual and Passive Income
How YOU get paid?
It's Simple! Our Platform pays Artists, Music Producers and Influencers for Beat Plays, Subscriptions and Beat Sales in multiple ways. Everyone gets a piece of the action for simply sending traffic or promoting each other. Our unique system tracks all of your activity and makes payments to you for sharing the word. The best part is our system continues to pay you long after the work you do is done. Keep reading to discover how we do this for YOU!
How BEAT PLAYS Pay YOU!
Every time a beat is played by an artist on BuyBeats.com, 3 people GET PAID!
1. When any artist on the platform plays your beats as a music producer, you are paid 50% of the stream payout.
2. Any time you invite an artist to listen to beats on BuyBeats.com and they play any producers beats, you are paid 20% each time for the stream payout. The more artists you invite to listen to beats, the larger the payouts you will receive!
3. Any time you invite a music producer and their beats are played, you collect 30% of the stream payout. So for example, if you invite 20 producers to the platform who upload a total of 500 beats. You will receive stream revenue each time any of those beats are played by an artist.
BuyBeats is the first production platform that pays you for your beat plays! This means you get paid when artists listen to your beats! That's crazy right!
BuyBeats.com Helps You Build Leveraged Income
by Paying You Monthly Commissions From Your Subscribers.
You Get Paid From Subscriptions!
Your premium membership comes with a referral program. Whenever a producer or artist signs up for a premium plan from your invite link, you are able to generate a recurring monthly income. You are paid 40% every month from their subscription.
You Get Paid From Others Beat Sales!
Whenever an Artist you invite to BuyBeats.com decides to purchase a beat, you will receive a 30% commission from the beat price. If the same artist decides to purchase another beat 1 year or 10 years later, you will receive a 30% commission payment then as well. Whoever you invite remains your customer as long as you are an active member on BuyBeats.com.
Track All Your Income Streams
You are provided with a dashboard that will track all of your income updates.
You will receive updates when your customers buy other music producers beats as well as your beats as a producer. You will also receive notifications when new customers sign up under your name. Our system will track all aspects of your commissions from beat play income, your beat sales, your subscriptions and more.
The Free Tools We Provide Help You Increase Your Traffic
and Provide You With Multiple Ways To Grow Your Commissions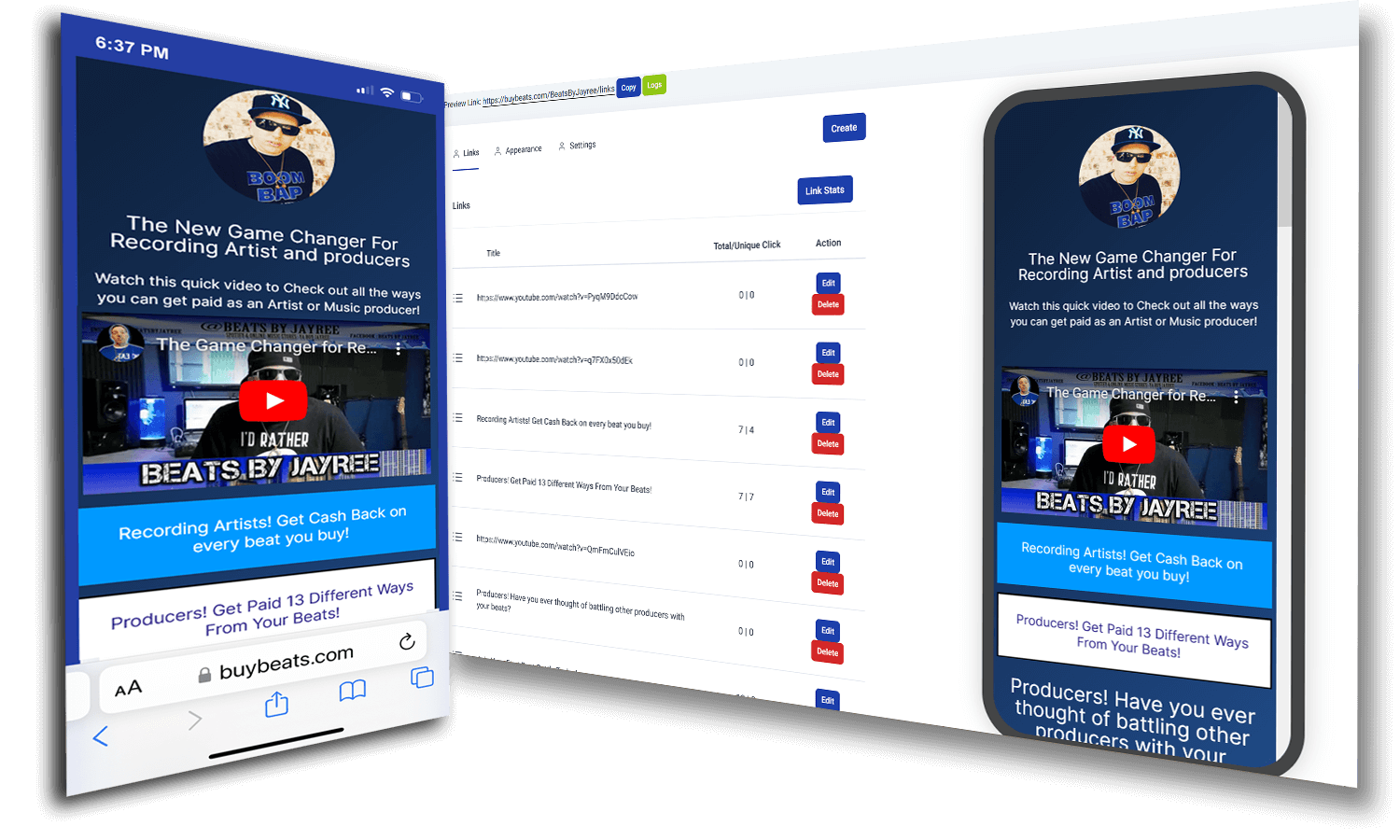 FREE Link Management System
As a Free or Premium member, you get a free "Link Tree" type of Link Management system to promote all of your affiliate links, social links and unlimited amount of other links you would like to promote.
For Recording Artists: You Can Use Our Beat Request Service FREE!
Instead of searching for beats, you can simply submit a beat request for the producers on our platform to respond. You set your budget, the genre, the tempo along with a few other settings and simply submit your request. Within minutes, the request will start rolling in.
Our Beat Playlist Generate Income For YOU!
You can create playlist or share existing playlist to generate income multiple ways.
3 Ways To Get Paid With Playlist
1. Stream Income - When you share a playlist and an artist signs up to listen to beats, you get paid stream revenue for every beat they play. Remember, this is your customer now, so even beats they play in the future, you get paid!
2. Beat Sale Income - When those same artists decide to purchase beats from the playlist or any beat on the platform, you receive 30% commission each time now and in the future.
3. When other producers sign up from your playlist or the playlist links you share, they become your customer. As stated above, you will then receive revenue each time their beats are streamed. This is real leverage working for YOU! Get started TODAY!
We Encourage Collaboration and Have Created Features for Your Growth
You Get a FREE Pro Store With Your Premium Membership
Pro Stores allow you to fully customize and brand your own beat store. Within minutes you can transfer any or all of the beats on BuyBeats.com to promote in your very own Pro Store. Rather if you are an Artist, a Music Producer or anyone that wants to promote beats, you can make 30% commission from each beat sold from your store. You also receive 40% subscription commissions from anyone that signs up for a monthly premium plan.
30% Cash Back When You Buy Beats From Your Pro Store
As a premium member, Artists can purchase beats from their Pro Store and receive 30% cashback on every beat purchased. Simply sign up as a premium member, add the beats you want to your Pro Store and make a purchase. You will be sent 30% cash back at the end of every pay period.
You Win Cash For Beat Battles and Tournament Battles
Cash Prizes For Monthly Beat Battle Winners and More...
Since re-launch on April 2022, there has been over 1400 beat battles and 8k plus in cash and prizes paid to producers.
As a producer on the platform, you are currently allowed to have 15 battles a month. The top two battle ranked producers win cash.
Random cash battles are selected every month by the staff and paid out to the winning producers.
What others are saying
"BuyBeats.com is the future. Finally a music production community that pays you for more than just selling your beats. The multiple income streams, the features and the benefits are AMAZING!"